It's official, Hollywood's everlasting bachelor is no more.  George Clooney married Amal Alammudin on Saturday, September 27th at the 16th century grand palazzo, Aman Canal Grand Hotel, in Venice.  The two exchanged vows just after 8 pm in the evening under an arch made of white roses.  The ceremony was presided over by Walter Veltroni, a former mayor of Rome whom Mr Clooney befriended through his humanitarian work.
The bride wore a white dress designed by Sarah Burton.  Guests sat down to a five-course dinner that included lemon risotto, lobster and polenta with mushrooms, while a string quartet and a jazz trio played.  The star studded event included, Matt Damon, Cindy Crawford, and Bill Murray.  It is said that the last of the guests left the celebration at 5am.
It's not over yet.  This is a wedding weekend as the couple hosted a lunch on Sunday and is scheduled for a formal civil wedding ceremony at Venice's 13th century town hall, Ca' Farsetti, on Monday to make the marriage legal under Italian law.
On Sunday afternoon the newlyweds hopped in a water taxi to reunite with their guests and continue the weekend-long celebration at the Belmond Hotel Cipriani for brunch with their guests.   It was quite a show stopper as the two cruised through the canals in a gorgeous wooden motor launch in their first public appearance since they exchanged vows during the star-studded party on Saturday night.  Wearing a lacy white dress embroidered with pink and red floral motifs by the Italian designer Giambattista Valli Couture, the 36-year-old human rights lawyer waved to the crowds, as a diamond-encrusted engagement ring shimmered on her right hand, as is tradition in Europe.  The two wore platinum wedding bands on their left ring fingers.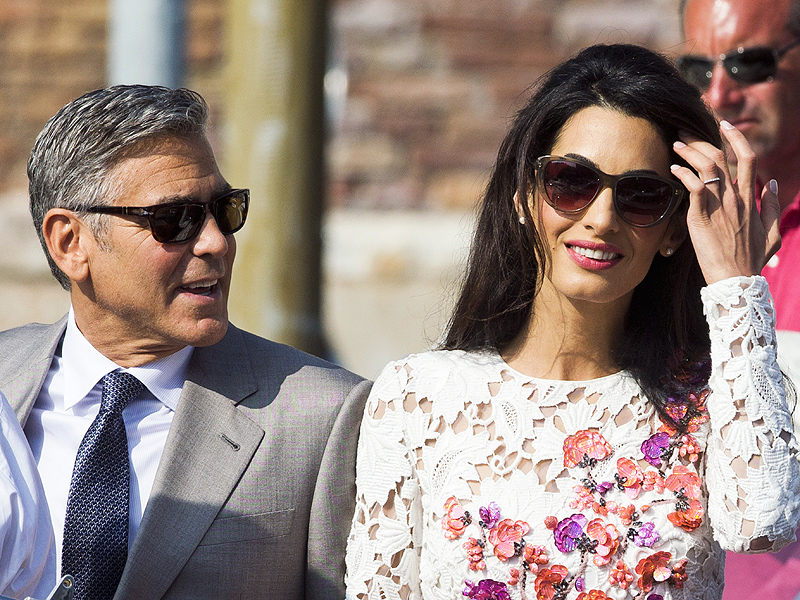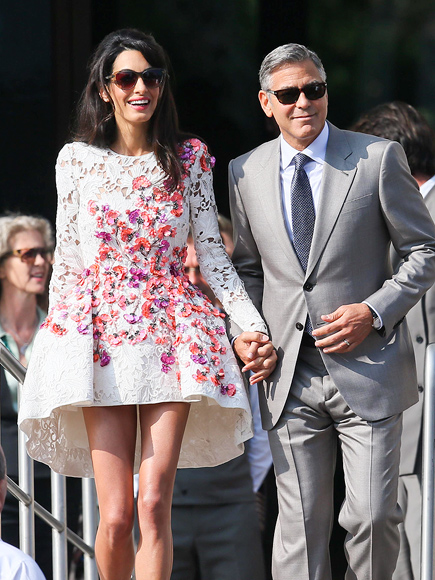 With the Grand Canal having choppy waters, Clooney, 53, wrapped his arm around his wife's waist, and they whispered to one another and waved to the fans who turned out to see them, lining the walkways and extensions and actually dangling from housetops. The tumult prompted a couple of minor accident in the waterway, with one boat driver catching the side of a ferry.  Around after 15 minutes, the couple landed at the Cipriani, where they rejoined with wedding guests for the luncheon they were hosting.
Later they were expected to hold  a dinner at the Antichi Granai, a converted 19th century grain warehouse adjacent to the Cipriani. We hope that the couple will save some energy for their appearance at the civil ceremony as they will arrive at the historic town hall, close to the Rialto Bridge, just as angry council workers stage a protest over budget and salary cuts. Protesters are hoping that Mr Clooney, who has been outspoken on issues such as the war and famine in Darfur, may help publicise their grievances.   We wish the couple a celebratory wedding weekend and that the fairytale continues despite the realities of life.